Baked Chicken Nuggets
I'm always looking at making 'multi-purpose' meals for dinner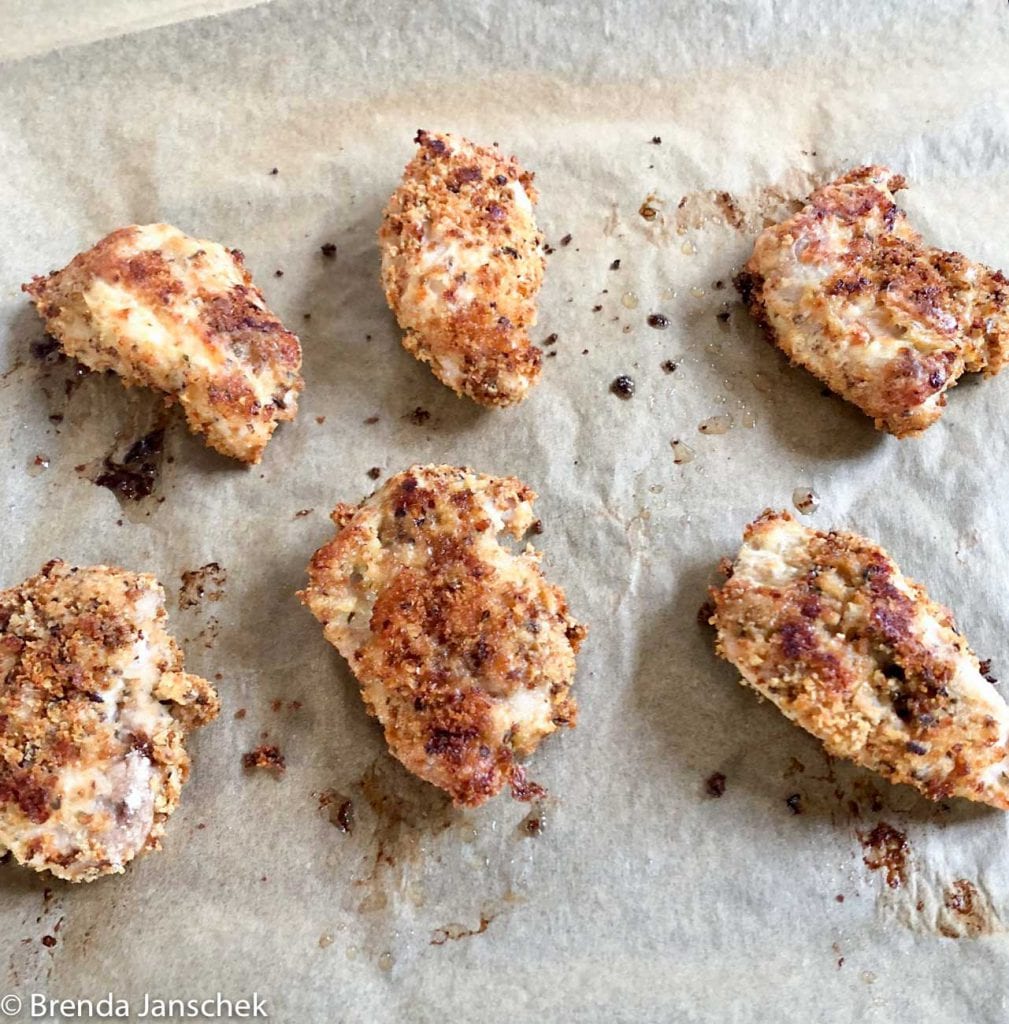 Meals that can be eaten for dinner straight out of the oven, or which are just as delicious eaten cold for those nights when one child is starving at 6pm and the other not home from training until after 8pm, meals which can double up for lunch boxes the next day (and day after that).
Chicken nuggets are a perfect solution. And let's be honest, what kid doesn't love them?!
My recipe is super easy to make with just a handful of ingredients. I make a big batch for our big eating family , and it a makes enough for lunch boxes the next day or two. I just throw them straight into the lunchbox as is, or wrap them up in some Mountain Bread with some mayo and lettuce.
I'm not one for batch frying anything, I just don't have the patience for it and I can't bare the mess. These baked versions are just as good as the fried ones, but without the mess and they take a fraction of your time.
The seasoning can be left out of the breadcrumb mix if you prefer, or you can use any alternatives which you family prefers. I often do a version with a Tex-Mex flavour which the kids just love. Or you can add in some parmesan cheese or lemon rind.
I like to serve the nuggets with oven-baked potato and sweet potato fries and a nice crispy garden salad and a squeeze of lemon over the lot.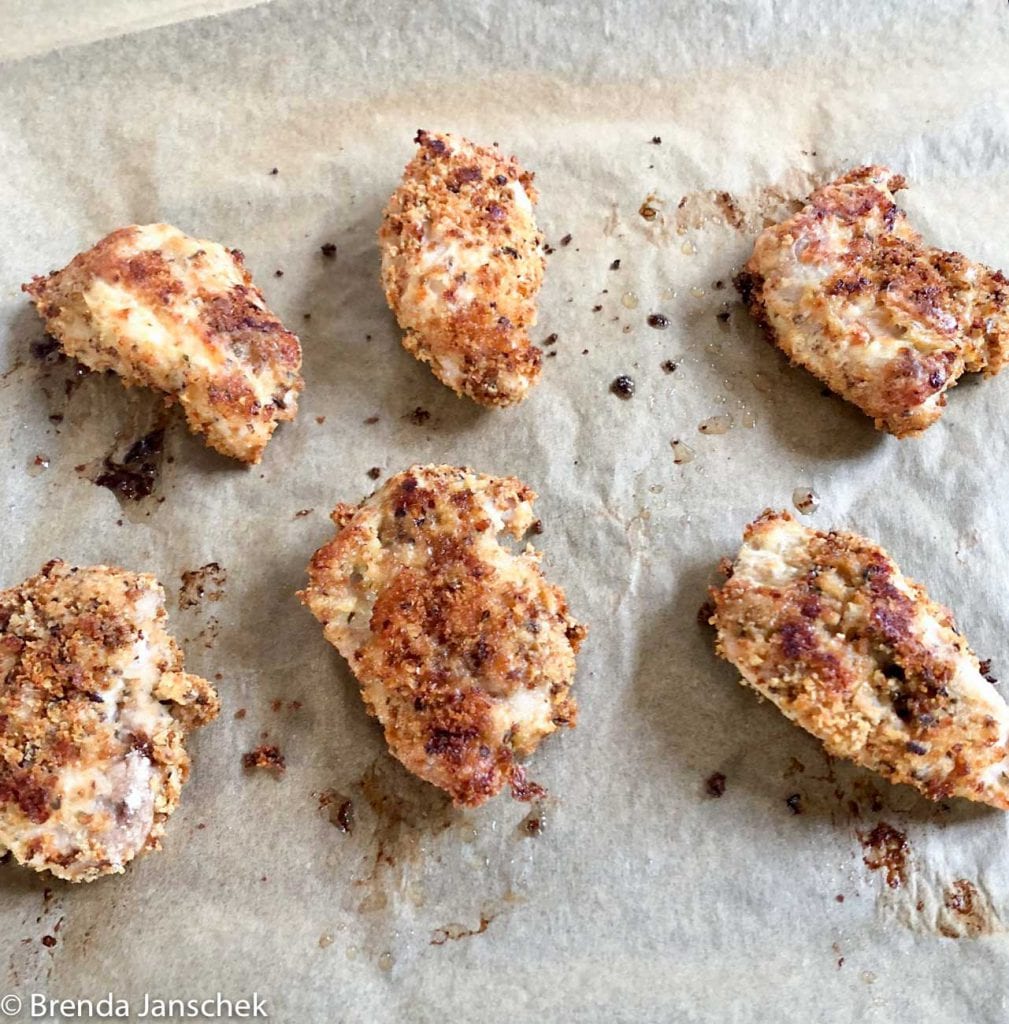 Baked Chicken Nuggets
2018-05-10 00:38:09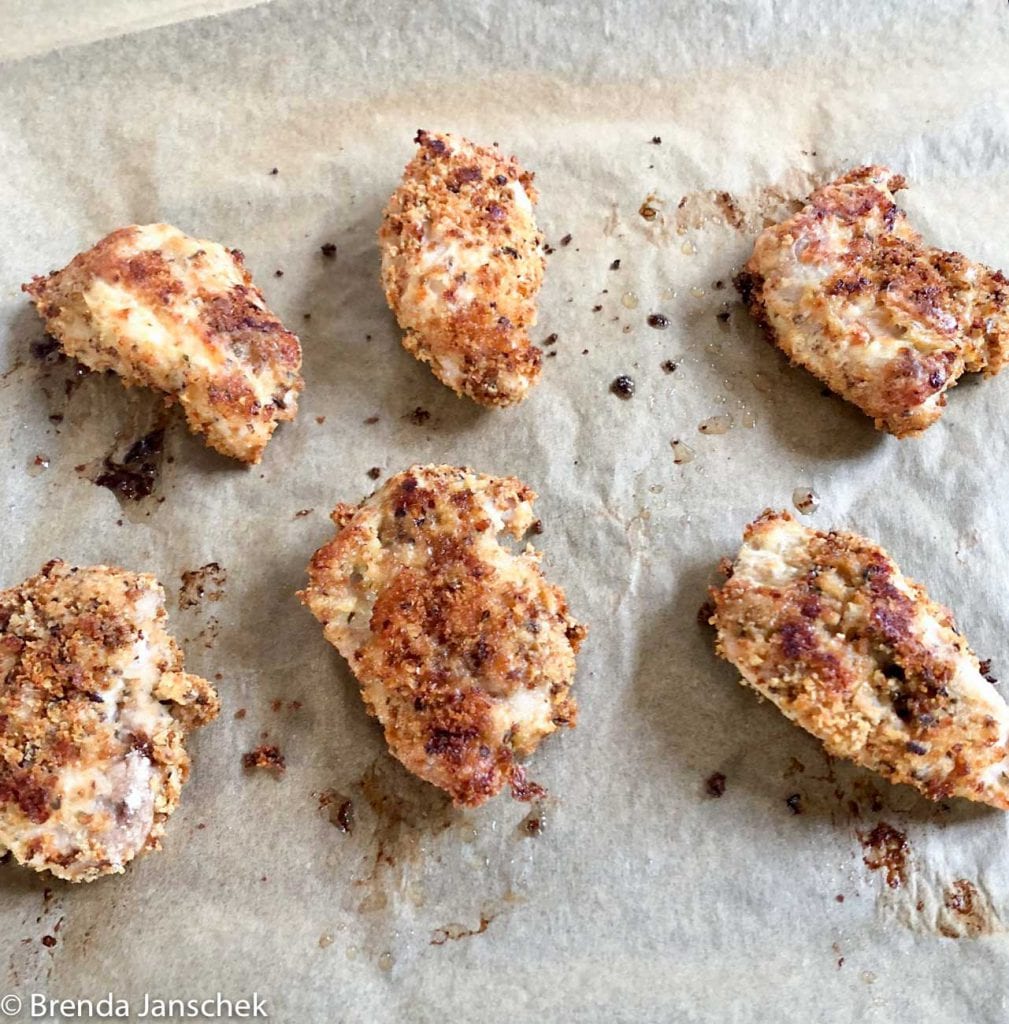 Serves 16
Ingredients
2.5 cups breadcrumbs, I just popped 2-3 pieces sourdough bread into the food processor
½ cup ghee or butter or mix of both
8 chicken thighs (approx. 900 gms)
2 teaspoons dulse flakes
I teaspoon sweet paprika
1 teaspoon smoked paprika
1 teaspoon garlic powder
1 teaspoon onion powder
1 teaspoon dried thyme
1 teaspoon dried basil
Sea salt or Himalayan rock salt
1 cup spelt flour
3 eggs, lightly beaten
extra virgin olive oil
Instructions
Preheat oven to 175 degrees C
Spread breadcrumbs on a rimmed baking sheet and bake until golden brown, 10 minutes, stirring breadcrumbs a couple of times to ensure they golden evenly
Towards the end of breadcrumb cooking time pop the ghee and/or butter into a ramekin into the oven to allow to melt.
While breadcrumbs are in the oven, cut chicken thighs into quarters
Once lightly golden place breadcrumbs on dinner plate, allow to cool then mix through the dulse flakes, paprika, garlic and onion powder, thyme, basil, salt and slightly cooled ghee or butter
Place flour on a dinner plate
Set a wire rack on a rimmed baking sheet and lightly brush some olive oil onto the rack. Or you can just line a couple of baking trays with baking paper
Set up an assembly line of chicken, flour, egg, breadcrumbs and proceed to dip the chicken into the flour (shake off excess), egg (allow excess to drip off) and finally the breadcrumbs and place on the wire rack
Drizzle chicken with olive oil and bake until the chicken is cooked through, approx. 15 – 20 minutes, flipping half way through the cooking time
Brenda Janschek Health & Lifestyle https://brendajanschek.com/
If you make this recipe let me know if your family loves it as much as we do, and please take photos and send them to me, or if you share them on instagram, remember to tag me @brendajanschek
You might also like these other family-friendly dinner ideas Tex Mex Burrito Bowls or Chicken Leek and Mushroom Pie
Bren x
As far as breakfast cereal goes, I always say, "you may as well eat the box', it's probably more nutritious than what's inside! Here are 5 things to think about before you reach for the boxed cereal in the supermarket.

Download Now