Banana Cinnamon Pancakes
I'm always thinking about ways to boost the nutritional value of the food my kids already love … cue pancakes!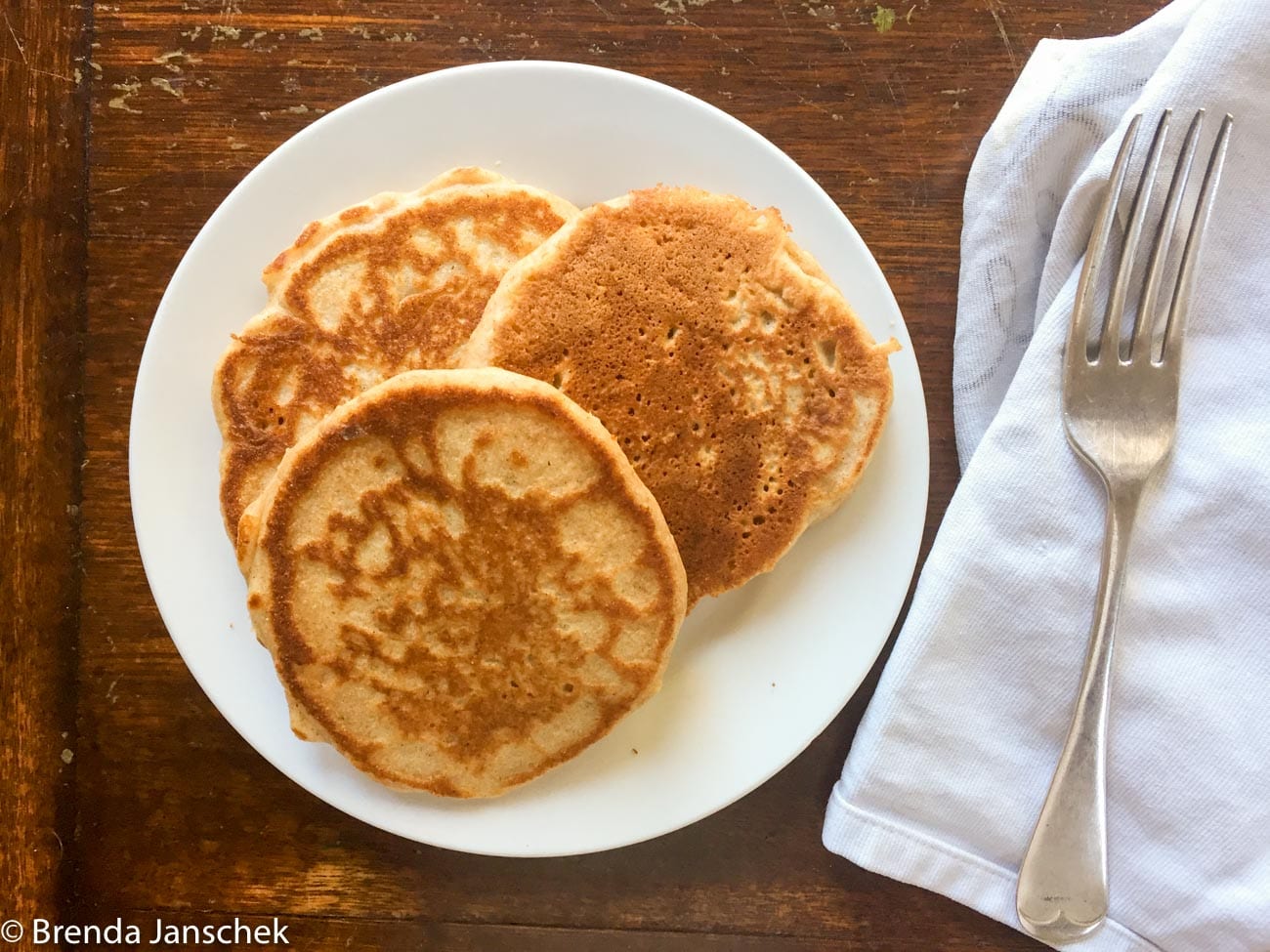 Most kids love pancakes for breakfast and they are super handy to pop into lunchboxes for a healthy treat.
It is enough for breakfast, and to pop into kids lunchboxes with a spread of raw honey and/or for savoury lunch pancakes. You can cook up the whole batch or save the wet ingredients in the fridge to cook up later.

If you're looking for some lunch inspiration, take a look at my recipe ebook, Easy Wholefood Lunchboxes. It's packed with 40 delicious nut-free, refined sugar free sweet and savoury recipes which have all been kid-tested and approved!
Many of the ingredients in this recipe can be sourced from my one-stop-favourite, organic wholefoods online store, The Wholefood Collective. They go to great lengths to ensure everything they source is amazing quality, they stock all my favorite products and I don't even have to leave the house! Oh and the cherry on the cake is they donate profits to improve food security for vulnerable Aussies.
Here are some of the ingredients you'll need:
Sunflower seeds
Chia seeds
Spelt flour
Buckwheat flour
Cinnamon
Aluminum-free Baking powder
Raw honey
Milk
The standard pancakes I make my kids use low- gluten flour, good quality eggs, milk and butter, which are all full of wonderful goodness.
As an experiment, I decided to add in some extra protein/good fats/healthy carbs in the form of 'seed-meal' (my term for ground-up seeds). Adding in some ripe banana  and cinnamon proves to be a great way to reduce the amount of sweetener required, whilst boosting that all important tryptohphan which helps to keep their spirits up for the day. The experiment was a success with the kids gobbling these down with glee!
To save time, you can even make this mixture the night before, ready to be turned into these tasty little delights in the morning.
Banana Cinnamon Pancakes
Ingredients
1/2

cup

sunflower seeds

1/4

cup

chia seeds

1

cup

spelt flour

1

cup

buckwheat flour

1

tablespoon

cinnamon

2

teaspoons

baking powder

2

tablespoons

raw honey

optional

1-2

cups

milk

we do 1 cup because we like a nice thick pancake

2

eggs

lightly beaten

2-3

medium ripe bananas

mashed
Instructions
Process seeds in a food processor until they resemble fine crumbs

In a bowl mix the mix the seeds, flour, baking powder and cinnamon

In a separate bowl mix honey, milk, eggs and bananas

Add wet ingredients to the dry ingredients

Pop a medium frypan on medium heat and melt some butter or coconut oil (I like using a mix of both)

Ladle in the pancake mixture and flip once sizzling

Serve on it's own, in lunchboxes or with some whipped cream and berries.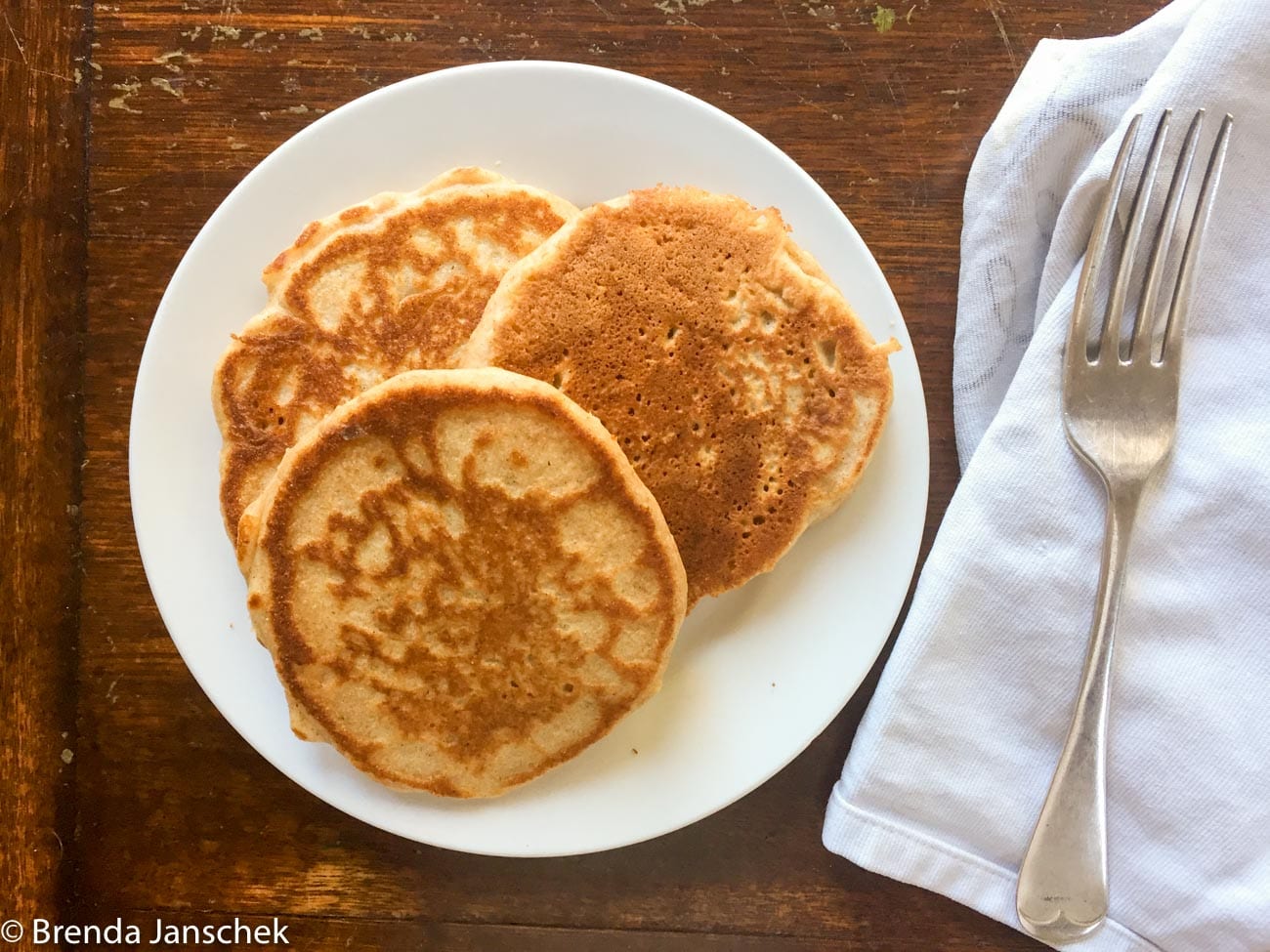 If you make these pancakes please do take photos and send them to me.
If you share them on instagram, remember to tag me @brendajanschek. Otherwise feel free to pm me your photos via Facebook. I get a total kick out of seeing you bring my recipes to life.
You may also like to try my Favourite Granola Recipe too.
Enjoy!
Bren x
Packed with 40 delicious nut-free, sweet and savoury wholefood recipes your kids will love!

Add to cart

$14.95
As far as breakfast cereal goes, I always say, "you may as well eat the box', it's probably more nutritious than what's inside! Here are 5 things to think about before you reach for the boxed cereal in the supermarket.

Download Now