Hot Chocolate Cake with Honeyed Cream
Fuelled by the success of my Date and Cinnamon muffin recipe, I set out to recreate something similar in the form of a cake, something "softer or wetter" as my daughter has requested. Apparently she is kinda over the muffin-thang and has decided that she would prefer a different texture to her cakes.
First world problems to the max.
So together we set to task and created this delectable cake and she assures me that this time the texture is "just right". Phew!
I had planned on using dates but had run out (a rare thing in this house). Having seen a few recipes around using prunes, I was inspired to give it a go.
Verdict: Prunes and chocolate = match made in cake heaven
Many of the ingredients in this recipe can be sourced from my one-stop-favourite, organic wholefoods online store, The Wholefood Collective. They go to great lengths to ensure everything they source is amazing quality, they stock all my favorite products and I don't even have to leave the house! Oh and the cherry on the cake is they donate profits to improve food security for vulnerable Aussies.
Here are some of the ingredients you'll need:
Prunes
Bicarbonate of soda
Coconut or rapadura sugar
Spelt flour
Baking powder
Dark chocolate
Raw honey
Hot Chocolate Cake
Ingredients
1 1/4

cup

prunes

deseeded

1 1/4

cups

boiling water

I used water from the kettle

1

teaspoon

bicarbonate of soda

60

grams

butter

chopped

1/2

cup

coconut or rapadura sugar

1

cup

spelt flour

2

teaspoons

baking powder

2

eggs

100

grams

dark chocolate

chopped (I used 90% Lindt but you may like to go for 70% as it may be too intense if you're not used to it)

thick cream

raw honey
Instructions
Preheat oven to 175 degrees

Butter and line cake tin

Pop prunes, hot water and bicarbonate of soda into a food processor with the lid on and let it stand for 5 minutes

Add the butter and sugar and pulse until just combined

Add flour and eggs and pulse again until just combined (careful not to over pulse)

Add chopped chocolate and pulse a few more times

Pour the mixture into the prepared bake tin and pop in the oven for approx 50 mins - 1 hour, test to see if it's is ready with a skewer after 50 minutes

Remove the cake from the oven and allow to cool in pan for 5 minutes before turning out onto a cooling rack

While it's cooking stir together your cream with a teaspoon of raw honey (or to taste), with a spoon

Serve cake warm with some honey cream and berries

Eat the cake within 3 days or store in the freezer
Notes
These Thermomix and Gluten-Free Instructions were sent to me by my clever friend Sarah from CleverCook.
250g pitted prunes in 250g boiling water
1 teaspoon bicarb of soda
Speed 1/no temp.
Add
60g butter
80g rapadura
100g dark chocolate
SP 4/30 secs, scrape down
Add
2 eggs
120g GF flour
2 teaspoons baking powder
SP 5/15 secs. Pour into lined muffin tins and cook 25-30 mins.
Thanks Brenda, they are lovely!
You can even turn these into muffins!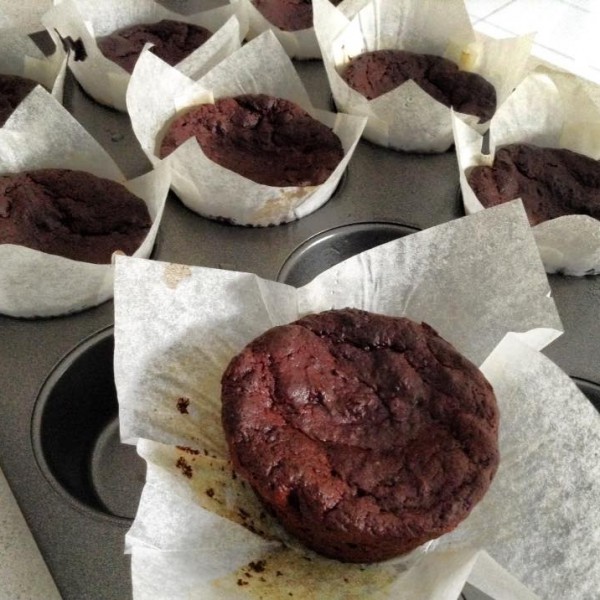 Please send me pictures on Instagram or Facebook if you make this cake, or leave a comment on this blog post to let me know how you go.
Here's one by one of my lovely Facebook followers who told me it was "ohhh so delicious" and apparently her husband has claimed it his favourite cake recipe!
Woo hoo!
You might also like Cardamon Spice Cake and Double Chocolate Banana Slab Cake.
Bren x


Packed with 40 delicious nut-free, sweet and savoury wholefood recipes your kids will love!

Add to cart

$14.95
[product id="13300″]
As far as breakfast cereal goes, I always say, "you may as well eat the box', it's probably more nutritious than what's inside! Here are 5 things to think about before you reach for the boxed cereal in the supermarket.

Download Now