Double Chocolate Banana Slab Cake
This Double Chocolate Banana Slab Cake is the answer to my prayers when it comes to feeding kids who are always hungry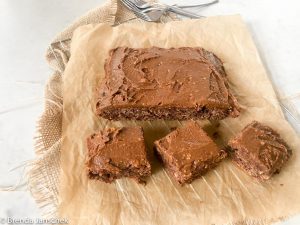 My teens are always 'STARVING' and even when I double recipes, these days they gobble it all down in one hit which means sadly for me there are barely any leftovers to reuse or repurpose : (
For the sake of my sanity I'm determined to beat this and create meals and snacks which are nutritious and FILL 'EM UP so I'm not constantly cooking!
Grab my ebook Real Food For Hungry Teens and fill those hollow legs!
So my first endeavour resulted in this Double Chocolate Banana Slab Cake full of ingredients to satisfy and satiate.
With nutritious ingredients like banana, oats, chia seeds, eggs, milk, butter, nut butter and a little avocado, this cake is the answer to my prayers to stop the incessant nibbling and nagging for 'more food' especially after school.
Most of the ingredients in this recipe can be sourced from my one-stop-favourite-shop, organic wholefoods online store, The Wholefood Collective. They offer amazing quality ingredients and value for money and they stock  all my favourite products and I don't even have to leave the house!  Here are most of the ingredients you'll need:
Cacao Powder
Maple Syrup
Whole Spelt Flour 
Rapadura Sugar
Baking Powder
Salt
Cinnamon
Dark Chocolate Chips
Rolled Oats
Medjool Dates
Coconut Milk
If you're looking for more recipe inspiration take a look at my ebook, Easy Wholefood Lunchboxes.
It's packed with 40 delicious nut-free, refined sugar free sweet and savoury recipes which have all been kid-tested and approved and take the guess work out of what delicious, healthy food to pack your kids for lunch!
If you need a nut-free icing take a look at my 10 Real Food Icing recipes here.
Double Chocolate Banana Slab Cake
Ingredients
CAKE
3

ripe bananas

115

grams

butter

melted

2

eggs

lightly beaten

¼

cup

milk

can use any milk like almond, dairy, coconut, rice, oat ....

2

teaspoons

vanilla extract

1/2

cup

rapadura sugar or coconut sugar

1.5

cups

whole spelt flour or unbleached plain flour

1/2

cup

cacao powder or Dutch processed Cocoa

1.5

teaspoons

baking powder

1/2

teaspoon

sea salt

1

teaspoon

cinnamon

1

tablespoon

chia seeds

3/4

cup

whole oats

1/2

cup

dark chocolate chips
ICING
1/4

cup

nut butter

I used peanut butter because that's what I had

2

teaspoons

pure maple syrup or rice syrup

3

teaspoons

raw cocoa powder

2

Medjool dates

2

tablespoons

avocado

can't taste it but gives body to the mix and extra nutrition!

1

tablespoon

milk

you can use almond, dairy, rice, coconut etc, any will work

1/2

teaspoon

pure vanilla extract
Instructions
Grease and line a 20 x 20 square tin

Preheat the oven to 180 degrees C.
CAKE
In a large bowl, mash the bananas.

Melt butter and pour over the top of bananas and stir. Add eggs, vanilla, milk and combine well.

Sift in the flour, cacoa powder, baking powder, sugar, salt and cinnamon. Add chia seeds, whole oats and chocolate chips. Fold the mixture until just combined.

Pour mixture into prepared tin and bake approx 30 minutes or until a skewer comes out clean. All ovens are different so I would check at 20 minutes to check if cooked.

Remove from oven. Allow to cool in tin for 5 minutes before turning out onto cooling tray. Cool completely before icing.
ICING
Pop all ingredients into a small food processor and blend until smooth.
Notes
Cut into squares or bars and store in air tight container or freezer.
If you make this recipe and share on instagram, remember to tag me @brendajanschek.
Otherwise feel free to pm me your photos via Facebook.
Some other delicious healthy treats you might like are Raw Caramel Slice and Cookie Dough Energy Balls.
Do you have hungry kids who are bottomless pits too?
Packed with 40 delicious nut-free, sweet and savoury wholefood recipes your kids will love!

Add to cart

$14.95
As far as breakfast cereal goes, I always say, "you may as well eat the box', it's probably more nutritious than what's inside! Here are 5 things to think about before you reach for the boxed cereal in the supermarket.

Download Now