'Notella' – A Healthy Chocolate Spread
We all know and love the scrumptious spread Nutella. But when you consider there are 5 teaspoons of sugar in each two-tablespoon serve, you wonder if there's a better way.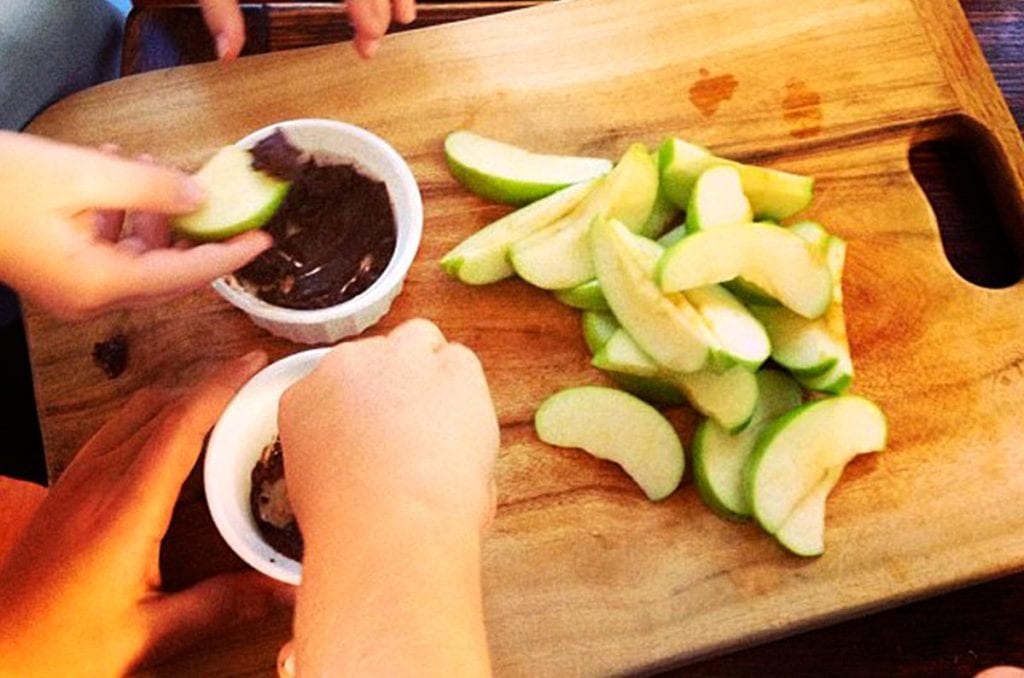 Well, there are a few healthy versions of the Nutella recipe floating around, and I've played around with them and tweaked the living daylights out of these recipes to finally create my family's favourite version.
We all think it's much tastier than the commercial Nutella, and it's much healthier too, using healthy oils, sugars and no artificial flavours. What's more, as you'll see, sugar is not the main ingredient in this recipe.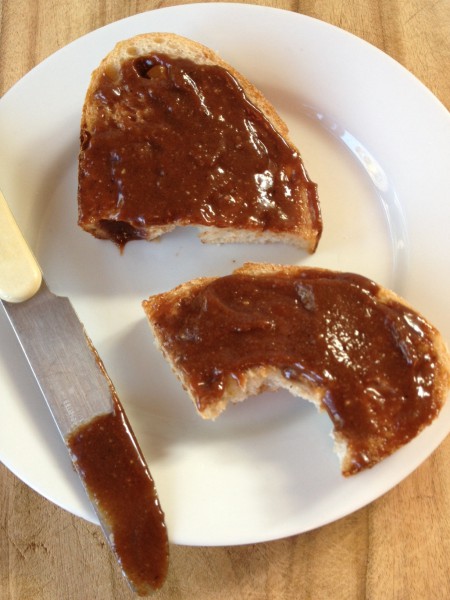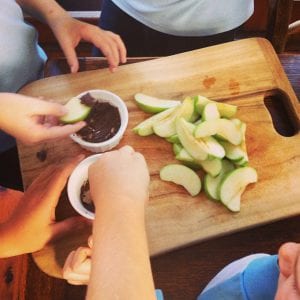 Notella
Chocolate Spread
Ingredients
1

cup

hazelnuts

2

tablespoons

cacao powder

2

tablespoons

pure maple syrup or brown rice syrup or raw honey,

add another tablespoon if you prefer it sweeter

1

teaspoon

vanilla extract

1

teaspoon

cinnamon

1/2

cup

coconut cream
Instructions
Warm the nuts up in the oven then remove the skins by rubbing the nuts together in a tea towel. (To be honest I skip this step because my kids don't complain about the taste or texture but you may not want to risk it).

Place nuts in a food processor and blend until smooth. This can take a few minutes.

Add cacao powder, sweetener of choice, vanilla, cinnamon, and coconut cream.

Whizz up all ingredients.

Store in a glass jar in the fridge.
Notes
Thermomix Instructions
Whiz hazelnuts on Speed 9 for 1 minute
Add cacao, sweetener of your choice, vanilla extract, cinnamon, coconut cream, and mix Speed 6 for 30 seconds.
Push down the sides, and mix Speed 6 for 20 seconds.
Store in a glass jar in the fridge.
Double the recipe and store in the freezer. 
We love our Notella:
• spread on sourdough toast for breakfast or a snack
• spread over apples or bananas
• mixed with natural yoghurt
• spread on spelt and buckwheat pancakes
• mixed with warm milk for a hot chocolate
• eaten straight out of the jar with a spoon
If you make this recipe please do take photos and send them to me.
If you share them on instagram, remember to tag me @brendajanschek.
Otherwise feel free to pm me your photos via Facebook. I get a total kick out of seeing you bring my recipes to life.
Other 'think outside the cereal' breakfast ideas you might love are Strawberry and Coconut Crumble and Egg Muffins.
Take a look at my FREE breakfast ebook below. The recipes will be sure to make your morning's shine!
Bren x

As far as breakfast cereal goes, I always say, "you may as well eat the box', it's probably more nutritious than what's inside! Here are 5 things to think about before you reach for the boxed cereal in the supermarket.

Download Now
nbsp;
As far as breakfast cereal goes, I always say, "you may as well eat the box', it's probably more nutritious than what's inside! Here are 5 things to think about before you reach for the boxed cereal in the supermarket.

Download Now