Oven-Fried Chicken
These are full of flavour and zing but without the heavy, greasy aftermath of deep-fried chicken.
The way my whole family get excited for this Oven-Fried Chicken reminds me of when it was KFC night when I was a kid. But now we get mouthfuls of delicious flavour without that gross feeling afterwards. Blah.
And one of my biggest loves, no mess from frying either!
The mix of flour, spices and butter gives a fine crispy layer to the succulent chicken, and a burst of flavour with every bite. The little kick of curry is what makes this so delicious in my opinion.
Super easy to make, serve with oven-fried potato and sweet potato, steamed green beans and a green salad. Serve leftovers hot or cold the night after, or do as I do and pop in the kids lunchboxes the next day.
Many of the ingredients in this recipe can be sourced from my one-stop-favourite, organic wholefoods online store, The Wholefood Collective. They go to great lengths to ensure everything they source is amazing quality, they stock all my favorite products and I don't even have to leave the house! Oh and the cherry on the cake is they donate profits to improve food security for vulnerable Aussies.
Here are some of the ingredients you'll need:
Ground tumeric
Garlic powder
Dried oregano
Sea salt
Black Pepper
Extra virgin olive oil
Spelt Flour or Unbleached Plain Flour 
If you're looking for more recipe inspiration, take a look at my recipe ebook which is getting rave reviews, Easy Wholefood Lunchboxes.
It's packed with 40 delicious nut-free, refined sugar free sweet and savoury recipes which have all been kid-tested and approved!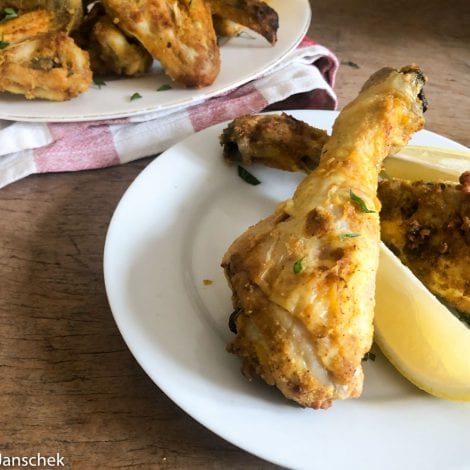 Oven-Fried Chicken
Ingredients
1.8

kg

mix of drumsticks and wings

1/2

cup

flour

(I use spelt flour or unbleached plain flour)

1.5

teaspoons

sea salt

Lots of cracked black pepper

1

tablespoon

sweet paprika

1

teaspoon

turmeric

2

teaspoons

curry powder

2

teaspoons

garlic powder

1

teaspoon

mustard powder

1

teaspoon

dried oregano

1/2

cup

butter

Extra virgin olive oil
Instructions
Heat oven to 180 C.

In a large bowl combine flour, salt, pepper, paprika, turmeric, curry powder, mustard powder and oregano.

Place butter in either one large baking pan or two medium sized baking pans. Place the pans in the oven to melt butter.

Coat the chicken with the seasoned flour mixture, putting 2-3 legs at a time into the bowl and making sure each piece is well coated before transferring to the prepared baking pans with the melted butter.

Drizzle the chicken with a little olive oil.

Bake the chicken uncovered in oven for 45 minutes - 60 minutes. Turn the chicken after 30 minutes and cook until tender and golden brown.
Notes
Serve with oven-baked potato/sweet potato fries, steamed green beans and large garden salad
If you make this recipe please take photos and send them to me.
If you share them on instagram, remember to tag me @brendajanschek. Otherwise feel free to pm me your photos via Facebook. I get a total kick out of seeing you bring my recipes to life. 
And remember, if you haven't already, grab your copy of Easy Wholefood Lunchboxes here.
Other similar recipes you might like are Crispy Chicken with Garlicky Potato Cream Sauce and Easy Chicken and Vegetable Casserole. 
Bren x
Packed with 40 delicious nut-free, sweet and savoury wholefood recipes your kids will love!

Add to cart

$14.95
As far as breakfast cereal goes, I always say, "you may as well eat the box', it's probably more nutritious than what's inside! Here are 5 things to think about before you reach for the boxed cereal in the supermarket.

Download Now