Raw Cacao Balls
These raw cacao balls are full of goodness and are equally great for kids' lunch boxes and for making hormones happy : )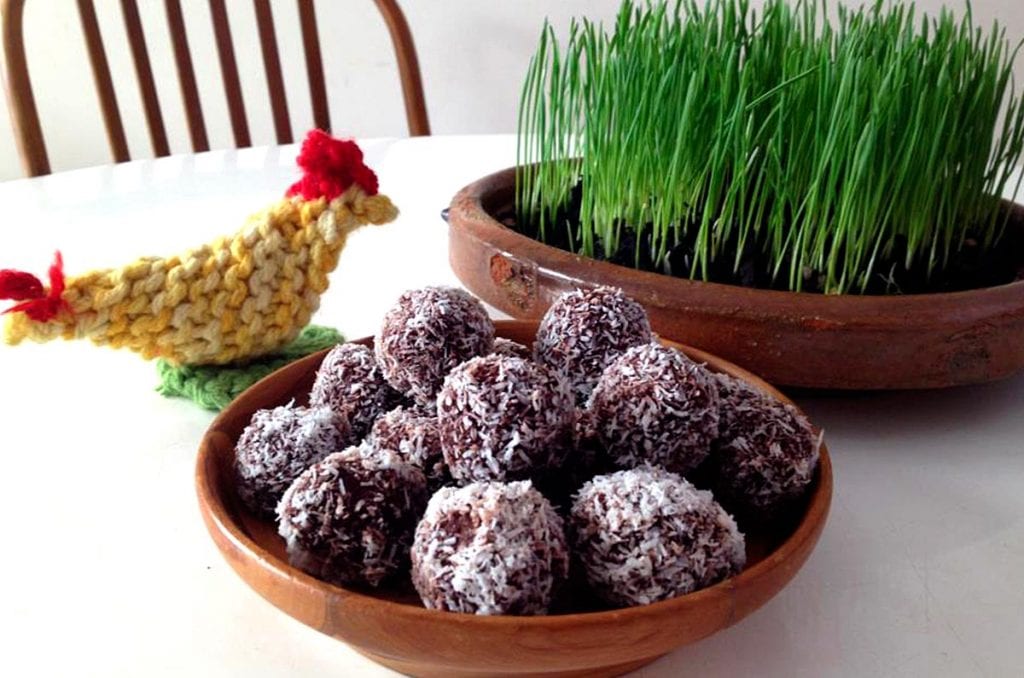 I personally adore dates which make up the base of most bliss ball recipes, but I am often asked if I have a recipe with a replacement for dates and which are nut-free and I always send across this Raw Cacao Ball recipe which uses desicatted coconut instead of dates.
With 5 simple pantry ingredients these make a quick, delicious, portable snack perfect for the school lunchbox, to throw in the gym bag, or as an afternoon snack.
Many of the ingredients in this recipe can be sourced from my one-stop-favourite, organic wholefoods online store, The Wholefood Collective. They go to great lengths to ensure everything they source is amazing quality, they stock all my favorite products and I don't even have to leave the house! Oh and the cherry on the cake is they donate profits to improve food security for vulnerable Aussies.
Here are some of the ingredients you'll need:
Desiccated Coconut – full of fibre and good saturated fats (the medium-chain kind) which make you feel nice and full, and coconut has anti-bacterial, anti-viral and anti-fungal properties.
Cacao powder – a raw and unprocessed superfood that contains iron, fibre, zinc, potassium, calcium. The anti-oxidants can help your body decrease inflammation and slow cortisol (stress hormone) production, stimulating feelings of wellbeing and euphoria. Cacao is known to lower blood pressure, adding to a feeling of calm. NB: Cacao contains theobromine which is a mood enhancer so I don't recommend it for kids under 2yrs of age.
Coconut oil – boosts HDL cholesterol (our good cholesterol), high in anti-oxidants also, antimicrobial. Balances blood sugar and detoxifying. The fatty acids in coconut oil help the hormones get to where they want and need to go in the body, and so support the creation, processing and elimination of estrogen and progesterone, leading to hormonal balance.
Raw honey – contains beneficial compounds such as pollens, enzymes and anti-oxidants, full of vitamins and minerals.
Maple syrup – contains lots of zinc plus other vitamins and minerals which have cardiac benefits.
Vanilla powder– contains anti-oxidants, calms the nervous system, fights infections.
If you're looking for more recipe inspiration, take a look at my recipe ebook, Easy Wholefood Lunchboxes.
It's packed with 40 delicious nut-free, refined sugar-free sweet and savoury recipes which have all been kid-tested and approved!
Raw Cacao Balls
Gluten-free, nut-free, dairy-free
Ingredients
2.5

cups

desiccated coconut

¼

cup

coconut oil

1/4

cup

of raw honey or pure maple syrup or rice malt syrup

add up to 1/3 cup of sweetener if needed

½

cup

cacao powder

1

teaspoon

pure vanilla extract or vanilla powder
Instructions
Put all the ingredients into a food processor and whiz them together well (If you don't have a food processor try mixing all by hand)

Mixture should be wet but not soaked. If you find it too wet just add extra coconut and mix; too dry, add more oil

Roll the mixture into tablespoons size balls with your hands then roll the ball into shredded coconut and place them on a cookie tray

Pop them in the freezer for approx 20 mins or until they set (doesn't take long)

Either store in the freezer (where they become firm, but not frozen) or the fridge
Notes
If popping into lunchbox, ensure you do so with an ice-brick otherwise they will 'melt' due to the coconut oil
If you make this recipe please do take photos and send them to me.
If you share them on instagram, remember to tag me @brendajanschek. Otherwise feel free to pm me your photos via Facebook. I get a total kick out of seeing you bring my recipes to life. 
And remember, if you haven't already, grab your copy of Easy Wholefood Lunchboxes here.
Other similar recipes you might like are Chocolate Orange Truffles and Brenda's Breaky Balls. 
Bren x

Packed with 40 delicious nut-free, sweet and savoury wholefood recipes your kids will love!

Add to cart

$14.95
As far as breakfast cereal goes, I always say, "you may as well eat the box', it's probably more nutritious than what's inside! Here are 5 things to think about before you reach for the boxed cereal in the supermarket.

Download Now