5 Minute Apple Cinnamon Bliss Balls
Everyone knows two wrongs don't make a right, except when you're cooking!
When my attempt at creating a new recipe went wrong, I decided to tweak a couple of things and buzz all the ingredients together and turn them into this version of bliss balls.
And to my surprise my whole family love them!
And happily, they are sugar-free, gluten-free.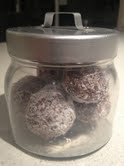 5 Minute Apple Cinnamon Bliss Balls
Ingredients:
1/2 cup dates, pitted
¾ raw almonds
1 tablespoon of chia seeds
1.5 cup dried apples
2 tablespoons coconut oil
1 tablespoon cinnamon
½ cup dessicated coconut
Preparation:
Place dates, almonds, chia seeds, dried apples, coconut oil, cinnamon in a food processor and combine until everything is well blended
Place a tablespoon full of the mixture into your hands and roll into balls
Roll balls in dessicated coconut and place in fridge to set
Tips
Use your favourite nut in this recipe and get creative with spices and flavours
Roast the nuts first to achieve a deeper flavour