Dukkah Chicken with Roast Pumpkin, Haloumi and Tahini Yogurt
I recently enjoyed the most wholesome and delicious lunch at a local cafe and decided to recreate the meal for my family
There are a few individual elements to this, but the good news is, each one is dead easy and the end result is totally worth it. I suggest doubling the chicken component and pop leftovers into Mountain Bread wraps with lettuce and mayo for a delicious lunchbox addition the next day.
Wanna know the best bit? My kids HATE pumpkin, and I can only get it past them by making this soup or this dip, but up until now, they have refused it any other way. But they absolutely loved it roasted in this dish! I can only gather it was because the pumpkin was in total harmony with everything else on the plate. On a side note, never, ever stop offering your kids foods they hate because how will they ever get a chance to try it if they don't see it and trust me, miracles do happen!
Ingredients for the dukkah can be found at my favourite wholefoods one-stop-shop, The Wholefood Collective. Their prices are highly discounted and they stock all my favourite wholefoods products!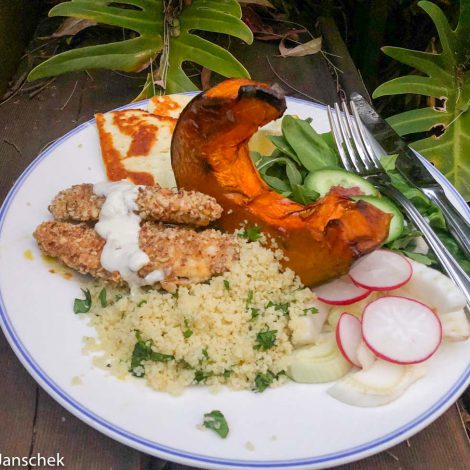 Dukkah Chicken with Pumpkin, Haloumi and Tahini Yoghurt Sauce
Ingredients
You can totally skip making your own dukkah and buy some good dukkah from the grocer instead. To make the dukkah I used the nuts below because that's what was in my cupboard, but you can use almonds, hazelnuts or brazil nuts if that's what you have
1/2

cup

walnuts

1/3

cup

hazelnuts

1/4

cup

sesame seeds

1

teaspoon

ground coriander

1

teaspoon

ground cumin

1

teaspoon

sea salt

lots cracked black pepper

Half a pumpkin

600

grams

chicken tenderloins

1/2

cup

spelt flour

1-2

eggs

1/2

cup

yoghurt

1

tablespoon

tahini

1

tablespoon

fresh lemon juice

Salt and pepper

1

cake of haloumi

sliced

1

cup

couscous

cooked per packet instructions
Instructions
Dukkah
Toast the walnuts and hazelnuts in a skillet for around 3 minutes or until they are fragrant.

Add the sesame seeds, coriander, cumin, salt and pepper and toast make sure you stir often so they don't burn, a couple more minutes should be enough.

Remove the mix from the heat and transfer them to a food processor.

Process the mixture until the nuts are broken down to the point that they resemble coarse sand (but not a fine powder)
Roast Pumpkin
Preheat oven to 180 C

Cut into 3 cm wedges, leave skin on

Pop wedges onto baking tray and brush olive oil over the pumpkin, including the skin. Place wedges skin side down on the tray, season and roast 45-60 until tender or when skin starts to slightly blacken
Dukkah Chicken
Line 1-2 baking trays with parchment paper

Place spelt flour on a dinner plate

Whisk egg in a bowl (use one egg at a time)

Place some dukkah on a dinner plate (top up as you go)

Set up an assembly line of chicken, flour, egg, dukkah and proceed to dip the chicken into the flour (shake off excess), egg (allow excess to drip off) and finally the dukkah and place on baking tray

Drizzle the chicken with olive oil and bake until the chicken is cooked through, approx. 15 – 20 minutes, flipping half way through the cooking time (I pop in the oven around half way through cooking the pumpkin)
Tahini Yogurt Sauce
Whisk together yoghurt, tahini and lemon juice and season with salt and pepper in a small bowl
Haloumi
While the pumpkin and chicken are in the oven, heat a large frying pan, drizzle in some extra virgin olive oil or ghee, once pan is hot, fry the haloumi slices until golden brown on both sides

Once everything is cooked, serve all components onto plate with fresh, side salad and drizzle the sauce over the chicken and pumpkin
Notes
Store dukkah in airtight container
If you make this dish please do take photos and send them to me.
If you make this recipe and share on instagram, remember to tag me @brendajanschek.
Otherwise feel free to pm me your photos via Facebook. I get a total kick out of seeing you bring my recipes to life.
Some other of our fave family dinner recipes you might like are Oven-fried Chicken and Garlic Prawn and Pea Spaghetti
Packed with 40 delicious nut-free, sweet and savoury wholefood recipes your kids will love!

Add to cart

$14.95
As far as breakfast cereal goes, I always say, "you may as well eat the box', it's probably more nutritious than what's inside! Here are 5 things to think about before you reach for the boxed cereal in the supermarket.

Download Now