Garlicky Ginger Miso Noodles with Roasted Asparagus and Broccolini
This recipe is a perfect healthy, stress free mid week meal the whole family will love.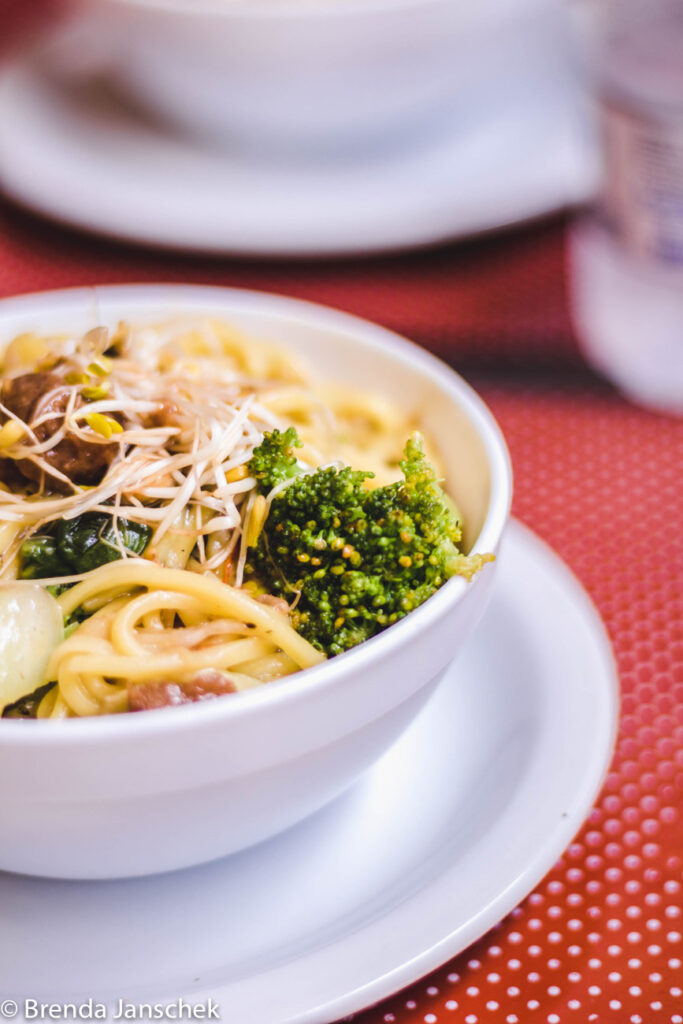 Garlicky Ginger Miso Noodles with Roasted Asparagus and Broccolini is a perfect healthy and satisfying meal to get you through a busy week.
I served it warm with bbq'd salmon and lemon wedges and I think it would go well with prawns, tofu, tempeh, pork mince…you name it. It would be great the next day eaten cold with some rocket and baby spinach stirred through also.
Come follow me on instagram and facebook for daily recipe, health and nutrition inspo!
Many of the ingredients in this recipe can be sourced from my one-stop-favourite, organic wholefoods online store, The Wholefood Collective. They go to great lengths to ensure everything they source is amazing quality, they stock all my favorite products and I don't even have to leave the house! Oh and the cherry on the cake is they donate profits to improve food security for vulnerable Aussies.
Here are some of the ingredients you'll need:
Extra virgin olive oil
Tamari soy sauce
Sesame seeds
Ramen noodles
Garlicky Ginger Miso Noodles with Roasted Asparagus and Broccolini
Ingredients
2

bunches

broccolini, trimmed, cut into thirds

1

bunch

asparagus, trimmed, cut into quarters

50

grams

butter, softened

50

grams

extra virgin olive oil

2

tbsps

white miso paste

4

tbsps

tamari or soy sauce

2

cm

piece fresh ginger, peeled, finely grated

2

garlic cloves, minced

4

shallots, finely sliced

270

grams

dried ramen noodels, or you can use any noodles

I get the Hakubaku brand from The Wholefood Collective as linked above

1

tbsp

hoisin sauce

2

tsps

sesame seeds, toasted, plus extra to serve
Instructions
Place butter, olive oil, 1 tablespoon of the miso paste, 2 tablespoons tamari, ginger and garlic in a small bowl. Mash together well. Stir through the shallots.

Preheat oven to 180C fan-forced. Place a large baking tray with baking paper. Line broccolini and asparagus onto prepared tray.

Dot broccolini and asparagus with the miso mixture. Roast for 10 minutes. Turn oven off and leave in there for further 5 minutes.

While this is cooking, prepare noodles as per packet directions. Drain well but save half a cup of noodle water and pop back into the saucepan. Stir through 1 tablespoon of miso paste plus the hoisin sauce and tamari.

Place noodles in a large bowl. Add broccolini mixture and extra sauce. Toss well to combine. Sprinkle with toasted sesame seeds and serve.
If you're looking for more recipe inspiration, take a look at my new recipe ebook which is getting rave reviews, Easy Wholefood Lunchboxes.
It's packed with 40 delicious nut-free, refined sugar free sweet and savoury recipes which have all been kid-tested and approved!
If you make this recipe please do take photos and send them to me.
If you share them on instagram, remember to tag me @brendajanschek. Otherwise feel free to pm me your photos via Facebook. I get a total kick out of seeing you bring my recipes to life.
Similar recipes you might like:
Spicy Pork and Vegetable Nasi Goreng 
Packed with 40 delicious nut-free, sweet and savoury wholefood recipes your kids will love!

Add to cart

$

14.95
As far as breakfast cereal goes, I always say, "you may as well eat the box', it's probably more nutritious than what's inside! Here are 5 things to think about before you reach for the boxed cereal in the supermarket.

Download Now